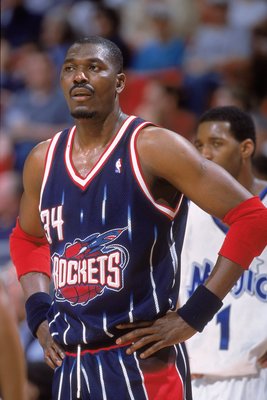 Hakeem Olajuwon was born to a Muslim family on the January 21,1963 in Lagos.
He is 7 ft 0 inch tall. From 1984 to 2002, Hakeem played in the NBA(National Basketball League) for Houston Rockets and Torontor Raptors where he played a Center position.
Between 1994 to 1995, He led the Rockets to back-to-back NBA Cahampionship.
In 1993-94, Hakeem became the first NBA Player to win the

NBA

MVP

,

Defensive Player of the Year

, and

Finals MVP

awards in the same season.
Hakeem was among the United States National Basketball Team that won the Gold medal in 1996 ATlanta Olympics. Remember, Our own Super Eagles Football team won the gold medal in the same Olympic.
Hakeem was listed among the 50 Greatest Players in NBA History.
In 2008, Hakeem was inducted into the Basketball Hall of Fame.